I really forgot to post about drugstore l/s and l/g that I love. There are some awesome choices out there and best of all, really cheap. The one thing I like the most is that many companies are now including moisturizing agents in their l/s, some even have spf!
**Again guys, nobody pays me to do this. This is just my opinion about products that I have bought and really love.**
MAYBELLINE MOISTURE EXTREME LIPCOLOR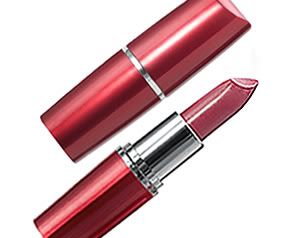 So I will start by saying I am more of a lipgloss girl. But this product IS really good.
Notice how Maybelline calls it "Lipcolor". Maybe because it really feels more like a thick(er) balm than your regular lipstick. They even advertise it as a the "active power of a lip balm (that) provides deep moisturization for voluptuous lips drenched in color". So yeah, for me this lipstick feel very soft and cool. I love that it has jojoba oil and my lips feel so good when I apply it. It doesn't dry my lips (remember l/s from years ago?...yuck!). It has a SPF of 15 and come in 56 shades! It lasts a bit more than 2-3 hrs. on my lips, which is good, I mean, no l/s lasts much on me. They really don't have any particular smell, I like that.
I also like they are very shiny, not sooooo creamy (except for a few shades). Some of the shades feel like the MAC L/S -- Lustre finish (gasp!). Yeah, I know, right? This product has received rave reviews in websites like
MUA
and others.
But yes, what really got me is how moisturizing they are. And good sun protection!
Price: $7 USD
Maybelline is BOGO free on Walgreens this week so maybe you could check these l/s out. I always wait for these sales to get them. Yeah, yeah, I'm cheap. Whatev.
L'ORÉAL COLOUR RICH
If you are looking for a more creamy-feeling lipstick, this is an excellent choice. These l/s have Omega 3 and Vitamin E, so they are also very moisturizing, though not as the Maybelline ones. 54 shades. This product does have a little smell, but frankly, it goes away quite fast and besides, most of the time I add some gloss on top of it.

Price: $9 USD

HONORABLE MENTION:
REVLON SUPER LUSTROUS L/S

These ones come in "creme" or "pearl" (semi-frost) finishes and 72(!!!) shades. Revlon advertises them as being super moisturizing but I don't know...for me they are really good, not drying, but not
THAT
moisturizing. Maybe it's my lips... But with all those colors available and great price, they are worth checking. I always use them on top of my lipbalm, so they are good to me. Oh, but I do find these to last longer. So, you know, the good and the bad go on a balance. Depends on what you are looking for.
Price: $8 USD
*******
My choices for lipgloss:
Ah, I love lipglosses! Yes people, glosses are sticky. Some more sticky than others, but really, there are not many out there that are less--sticky. I find funny how many people say "yuck, they are sticky". Yeah...
REVLON SUPER LUSTROUS L/G
Another product tons of people love. These glosses are one of best out there, at least for me! Personally, I like the consistency and color payoff. Some of them have shimmer, others just provide a beautiful shine. 14 regular shades available. I love most of the colors and they last pretty much. SPF 15 is always a huge plus.

Price: $7.50 USD

Check out many BOGO sales on your local drugstore to get them for an even better price.


L'ORÉAL HIP BRILLIANT SHINE LIP GLOSS
The packaging of these is similar to the regular Colour Juice Sheer Juicy Lipgloss and have a nice smell, but that's it. These ones are sticky, but have excellent, EXCELLENT color payoff; after all, they have "twice the pigment for added impact". Got that right. The trick is not applying too much ladies!

This product have Jojoba oil and I absolutely LOVE how much they last. Really, I have used them for hours without retouching and the color still there. I do use lipbalm first. 14 shades available. Sadly, no SPF.

If you love MAC glosses, give these a try. If you don't, well, don't even look this way...lol.

Price: $8-9.50 USD



That's all for now cuties!
¡Vivan, amen y rían!
(Live, love & laugh!)